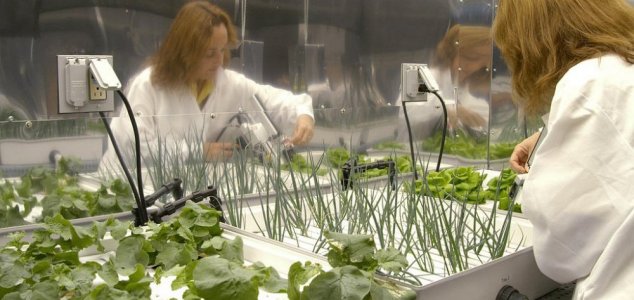 Hydroponics could be the key to sustainable food supplies in space.

Image Credit: NASA/KSC
Astronauts aboard the International Space Station will soon be attempting to grow their own vegetables.
Traditionally any food consumed in space has to be pre-packaged and sent up from the Earth, an arrangement that works fine for astronauts living and working on the space station, but what about on a manned mission to Mars ? On voyages that could take months or even years, carrying enough food to last the whole journey becomes increasingly impractical.
To address this problem, scientists have long been considering ways for astronauts to grow their own food in space. Beginning this year, astronauts on the space station will be carrying out an experiment in which they will try to harvest a plot of lettuces using a special plant growing platform known as "Veggie".
"The Vegetable Production System (Veggie) is a deployable plant growth unit capable of producing salad-type crops to provide the crew with a palatable, nutritious, and safe source of fresh food and a tool to support relaxation and recreation," the space agency wrote on its website.
Source: Houston Chronicle | Comments (20)
Tags: NASA, ISS, Hydroponics