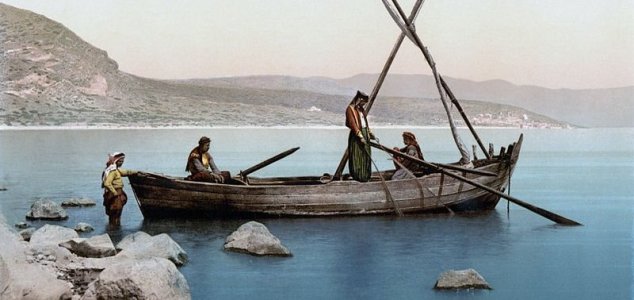 Fishermen on the Sea of Galilee.

Image Credit: Detroit Publishing Co.
The Sea of Galilee town could be Dalmanutha, a place visited by Jesus after he fed the four thousand.
The town was discovered during a field survey in Israel's Ginosar valley and dates back 2,000 years. Researchers believe that it could be Dalmanutha, the place to which Jesus sailed after his miraculous feeding of four thousand people with a few loaves and fish.
The wreck of a boat dating back to the same time period was discovered nearby in 1986 but the significance of the find hadn't been realised until now.
The Gospel of Mark details Jesus' visit to Dalmanutha as follows:
"[Jesus] got into the boat with his disciples and went to the region of Dalmanutha. The Pharisees came and began to question Jesus. To test him, they asked him for a sign from heaven. He sighed deeply and said, 'Why does this generation ask for a sign? Truly I tell you, no sign will be given to it.'Then he left them, got back into the boat and crossed to the other side."
Researchers believe that the town would have been a prosperous one during biblical times with a strong focus on fishing. Architectural and pottery evidence suggests that its inhabitants would have consisted of both Jews and people who followed polytheistic religions living side by side.
Source: NBC News | Comments (17)
Tags: Galilee, Dalmanutha, Israel