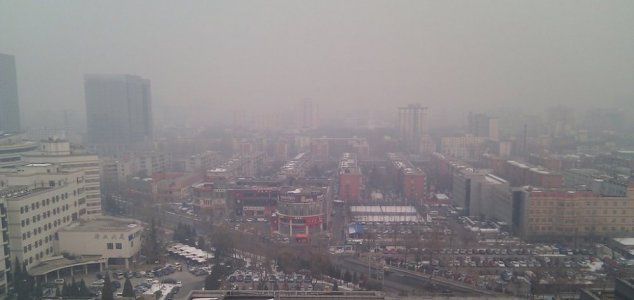 Pollution in some of China's cities has reached catastrophic levels.

Image Credit: CC BY-SA 2.0 Ilya Haykinson
A novel new technique for dealing with smog is to be trialled in one of China's largest cities.
Pollution has become increasingly problematic in China in recent years with smog enveloping its largest cities on a regular basis. The level of pollution is now so bad that it can often exceed 300 micrograms per cubic meter for days at a time and wearing a face mask outdoors has become commonplace.
Authorities have been trying to deal with the issue by imposing limits on factories and traffic when the pollution is particularly heavy, however Dutch artist Daan Roosegaarde has come up with an intriguing new approach that could prove to be far more effective.
Roosegaarde has devised what he calls an "electronic vacuum cleaner", a device that uses static to attract smog particles out of the air. He plans to set up a large scale version in a park in Beijing as a demonstration of the system's effectiveness.
If the setup works it will clear an area of 2090 square meters in an otherwise smog-filled sky, giving the city's inhabitants a taste of what it would be like to live in a smog-free environment.
"Here, the absence of the smog is the design and I like that," said Roosegaarde whose previous artistic inventions have included a dance floor that generates electricity and a highway that's connected to the Internet. "For me design is not about chairs and lamps or tables, what you know Dutch design to be. I like thinking of designs that enable and improve life."
Source: Gizmodo | Comments (17)
Tags: China, Smog