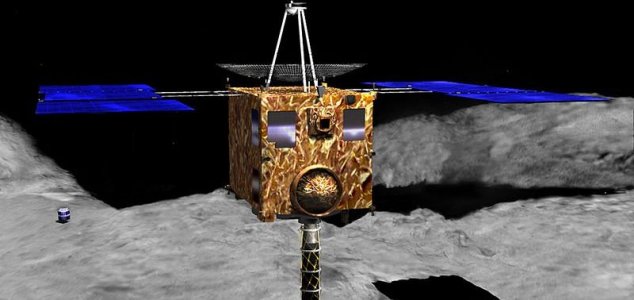 Japan's Hayabusa spacecraft.

Image Credit: J.R.C. Garry
The Japanese space agency is hoping to blast a hole in an asteroid to find out what it's made of.
The groundbreaking space weapon will be launched as part of the Hayabusa-2 spacecraft in 2014. The mission will see the probe rendezvous with asteroid 1999JU3 between Earth and Mars in 2018 before landing on it and scooping up samples to return for analysis.
The special 'space cannon' will blast a hole in the asteroid using a 4lb metal projectile to help expose samples of material for study. Engineers successfully test fired the device this week, an achievement that will put the mission on schedule for launch next year.
"An artificial crater that can be created by the device is expected to be a small one, a few meters in diameter, but ... by acquiring samples from the surface that is exposed by the collision, we can get fresh samples that are less weathered by the space environment or heat," the space agency said in a statement.
Japan's original Hayabusa mission successfully returned from its visit to the Itokawa asteroid in June 2010.
Source: Independent | Comments (9)
Tags: Japan, Asteroid, Hayabusa