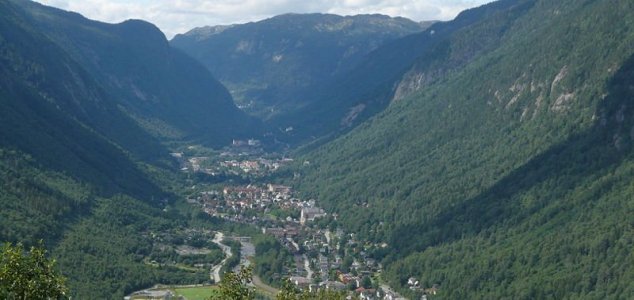 The hills prevent direct sunlight reaching the town in winter.

Image Credit: CC BY-SA 3.0 G.Lanting
The town of Rjukan is completely surrounded by tall hills, cutting off direct sunlight during the winter.
Residents of the town are so deprived of sunlight during the cold winter months that they are forced to take a cable car to the top of the surrounding hills in order to get their fix. The problem stretches from September right through until March of the following year.
An innovative solution to the problem was first proposed by Sam Eyde, the town's founder, back in 1913. He had proposed setting up large mirrors on the hilltops to reflect the sun's light down on to the town, however at the time the technology didn't exist to make it happen.
Fast forward 100 years and a new project costing 5 million kroner ( $848,000 ) has done exactly that. Three giant 17m long mirrors have been placed 450m above the town where they can now reflect beams of sunlight down on to the town in specific areas. The mirrors are designed to follow the sun's movement across the sky to maximize the effect.
"We think it will mean more activities in town, especially in autumn and wintertime," said tourist office head Karin Roe. "People will be out more."
Source: Russia Today | Comments (12)
Tags: Norway