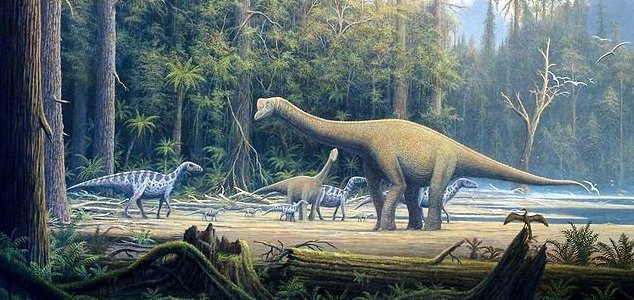 Some sauropod dinosaurs weighed upwards of 30 tons.

Image Credit: CC BY-SA 2.5 Gerhard Boeggemann
The key to explaining why some dinosaurs were so big may lie in the structure of their bones and joints.
Scientists have long pondered over what made it possible for some dinosaurs to grow to immense sizes and why land-based mammals have never been able to do the same. Some sauropod dinosaurs weighed up to 30 tons, far heavier than the largest land mammals.
New research has suggested that the key may lie in differences between the bones and joints of large mammals and large dinosaurs. Researcher Matthew Bonnan and colleagues investigated and compared the joints of large land mammals, dinosaurs and their modern-day descendants, birds.
What they found was that as size increases, the bones of mammals become rounded at the ends and the cartilage is stretched thin across the joint. By comparison, in larger dinosaurs the bones appeared to grow wider and flatter at the ends and the cartilage appeared to develop multiple layers.
It is thought that this difference would have been a major contributing factor in making it possible for dinosaurs to grow to a much larger size than their mammalian counterparts.
Source: Fox News | Comments (32)
Tags: Dinosaurs