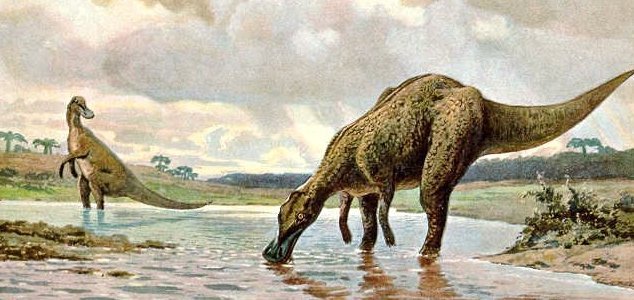 Duck-billed dinosaurs may have used their head ornaments to attract a mate.

Image Credit: Heinrich Harder
The discovery of a mummified dinosaur has helped to piece together how some species might have looked.
The well preserved specimen of a duck-billed dinosaur known as
Edmontosauraus regalis
discovered in Alberta, Canada would have been unremarkable were it not for one unusual addition - traces of an ornamental crest on the creature's head not dissimilar to the comb found on that of a rooster.
"This is the first evidence of an entirely soft-tissue crest for any dinosaur," said study lead author Dr Phil Bell. "Bony crests are well known but skin rarely fossilises and even when it does, it is almost never found on the skull."
It is believed that these fleshy head ornaments may have been used as a way for the dinosaur to attract a mate in a similar way to the colorful displays exhibited by some modern birds.
The remarkable preservation of the fossil is thought to have been the result of the animal becoming buried in sediment almost immediately after death, something that happens very rarely.
Source: BBC News | Comments (10)
Tags: Dinosaur