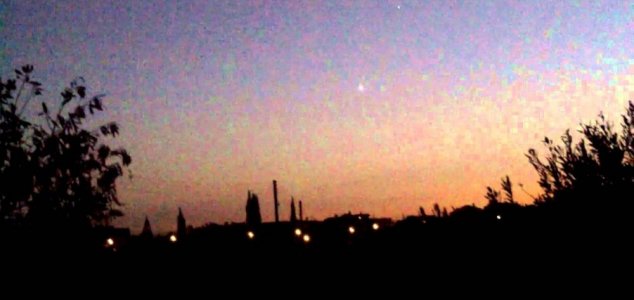 The object was filmed over Cyprus.

Image Credit: YouTube / UFODI
An anomyous Limassol resident uploaded footage of a strange white light moving across the sky.
The footage focuses on the object as it moves steadily towards the left while the witness looks on, seemingly perplexed by what he is seeing. After a few seconds the object appears to grow in brightness and then changes direction entirely, heading back towards the right.
"As I was walking around my neighborhood on September 27th 2013 I saw this strange light hovering on the sky which also changed colors to green," he wrote. "At first I thought it was a plane but as it got closer this thing was quite big and was hovering on the sky for about an hour and 5 minutes."
Cyprus has seen its fair share of UFO sightings in recent years, with footage from a local TV cameraman generating more than 100,000 views in 2007 and a video of an object shot over Larnaca airport attracting significant attention back in 2002.
Source: Famagusta Gazette | Comments (13)
Tags: UFO, Cyprus