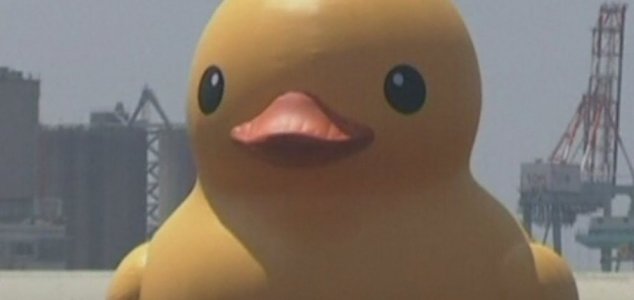 The duck has proven a hit around the world.

Image Credit: YouTube / ITN
A 50ft version of the traditional bath toy met an untimely end under mysterious circumstances.
The enormous inflatable duck was the creation of Dutch artist Florentijn Hofman and was intended to be part of the New Year celebrations at the Taiwanese port of Keelung. Unfortunately however the gargantuan yellow bath toy suddenly collapsed after just 11 days on display and nobody seems to know why.
"We want to apologise to the fans of the yellow rubber duck," said organiser Huang Jing-tai. "We will carefully examine the duck to determine the cause."
Hofman had originally designed the unusual exhibit in the hope that it would bring people together and promote public art, with several other versions having proven very successful at various locations around the world including Sydney, Amsterdam and Hong Kong.
Source: BBC News | Comments (22)
Tags: Rubber duck, Taiwan