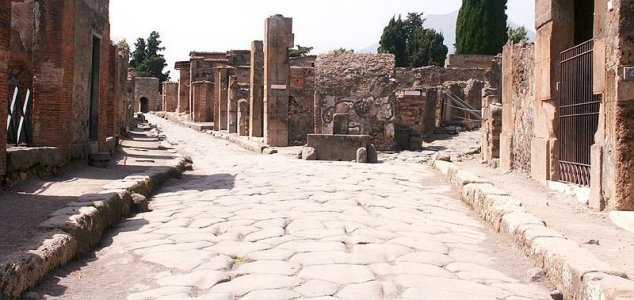 The streets of Pompeii.

Image Credit: PD - Alago
A new study has revealed some of the more unusual diets of those who lived in the doomed Roman city.
One of the best known disasters in history, the demise of the ancient Roman city of Pompeii at the hands of a volcanic eruption has provided archaeologists with a treasure trove of clues detailing every facet of how its people lived and died.
One of the myths of ancient Rome that Pompeii has helped to dispel is that of food. While once it was thought that the Roman elite dined on delicacies while the regular townsfolk made do with birdseed and other basic foodstuffs, now it appears that the class divide was nowhere near as extreme.
"The traditional vision of some mass of hapless lemmings - scrounging for whatever they can pinch from the side of a street, or huddled around a bowl of gruel - needs to be replaced by a higher fare and standard of living, at least for the urbanites in Pompeii," said study co-author Steven Ellis.
Instead, the lower classes would have eaten simple but healthy foods while wealthier individuals would have dined on exotic delicacies such as sea urchins and even giraffe.
"This is thought to be the only giraffe bone ever recorded from an archaeological excavation in Roman Italy," said Ellis.
Source: NBC News | Comments (15)
Similar stories based on this topic:
Tags: Pompeii