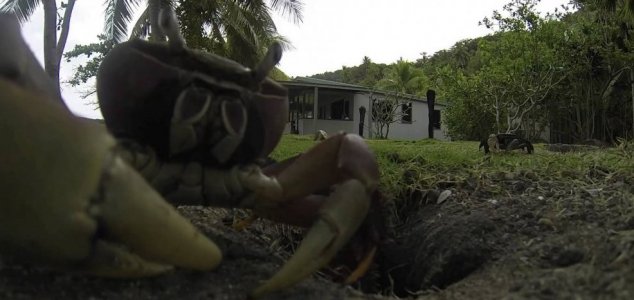 The crab got a little too inquisitive.

Image Credit: Diederick Ryan / YouTube
Remarkable new close-up footage shows a large crab picking up a camera and carrying it in to its lair.
The footage begins innocently enough with the idyllic view of a diving resort in Fiji, but all too soon the frame becomes filled by the visage of a large eight-legged crustacean emerging from a hole in the foreground.
The curious crab appears to examine the camera for a moment and then literally picks it up and carries it back down in to the hole. The device would have been lost completely if the camera's owner hadn't been on-hand to retrieve it before the crab dragged it too far down the burrow.
"I used the new GoPro app and wifi to sit and wait for the crab to appear and hit record from the building in the background," wrote Diederick Ryan who recorded the footage. "It all looked great until he disappeared with the camera down his hole."
Source: Telegraph | Comments (16)
Tags: Crab