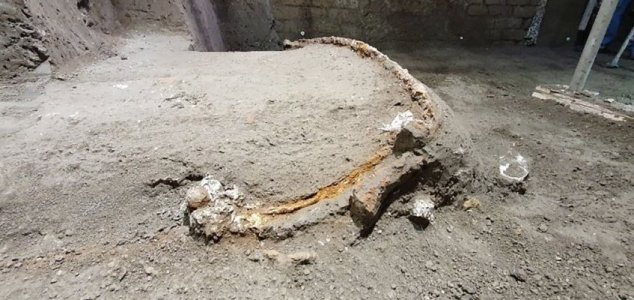 The chariot was the 'Lamborghini' of its day.

Image Credit: Archaeological Park of Pompeii
Archaeologists have discovered a well-preserved 2,000-year-old chariot in the ruins of a wealthy Roman villa.
Made from iron, bronze and wood, the chariot, which would have been pulled by a team of horses through the streets of the city more than two millennia ago, is quite an impressive find.
Experts belive that it may have been what was known as a pilentum - a special type of chariot that was used exclusively for special occasions such as parades and festivals.
It is so well preserved that there are even still traces of flowers, ropes and other organic materials.
There was evidence that thieves had attempted to dig through the area surrounding the chariot in search of treasures to plunder, however they fortunately did not come across it.
"I was astounded," Eric Poehler from the University of Massachusetts Amherst told
NPR
.
"Many of the vehicles I'd written about before... are your standard station wagon or vehicle for taking the kids to soccer. This is a Lamborghini. This is an outright fancy, fancy car."
Archaeological Park of Pompeii director Massimo Osanna described the find as "an extraordinary discovery for the advancement of knowledge of the ancient world."
"At Pompeii, vehicles used for transport have been found [in] the past... but nothing like the Civita Giuliana chariot," she said.
Source: Live Science | Comments (2)
Similar stories based on this topic:
Tags: Pompeii, Chariot