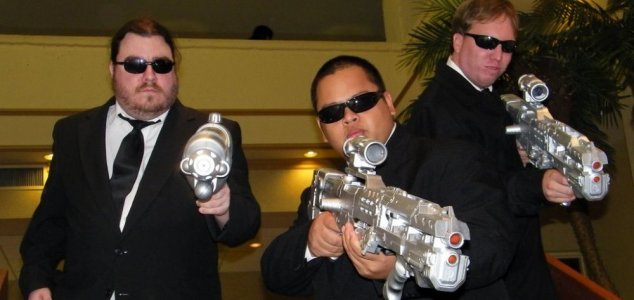 Government agents or alien visitors ?

Image Credit: CC BY-2.0 millermz
There have been many recorded cases of mysterious agents turning up in relation to UFO sightings.
A typical Men in Black encounter will involve two well-dressed individuals in black suits turning up in relation to a UFO sighting, alien abduction or other paranormal event. Witnesses have described them as 'not quite right', observing them to act uncomfortably or without any apparent emotion.
The target will usually either be warned not to continue their research or to tell their story, often feeling harassed or intimidated in to keeping quiet. Some believe that these mysterious agents are part of a government agency such as the CIA while others subscribe to the idea that the Men in Black could be extraterrestrial visitors themselves.
The term 'Men in Black' is thought to have been originally coined by author and investigator John Keel who researched the phenomenon in a magazine article entitled "UFO Agents of Terror". Later the concept would become mainstream thanks to the "Men in Black" movie series starring Will Smith and Tommy Lee Jones.
One of the most well known historical accounts of MIB intervention was reported by Albert K. Bender who claimed in his 1963 autobiography that he was intimidated in to halting the publication of his UFO magazine, "Space Review", in 1953 by visitors dressed all in black.
More recently, actor and UFO researcher Dan Akroyd recalled a mysterious encounter while preparing for a new paranormal TV show called "Out There". He had been talking on the phone outside when he noticed a black sedan with two figures dressed in black who both appeared to stare at him with an unpleasant glare. Having turned away for a brief moment he looked back to find that the car and the men had disappeared.
"I turned back a half-second later and it was gone," he said. "And that car did not go past me, it did not take a U-turn. … That car vanished."
Source: The Epoch Times | Comments (108)
Tags: Men in Black, UFO