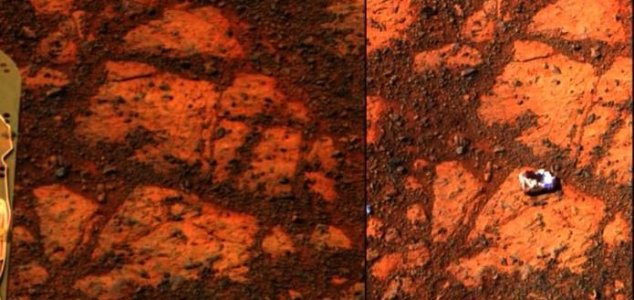 The two images taken by the rover of the rock that appears between shots.

Image Credit: NASA
Rhawn Joseph is taking legal action on the basis that NASA isn't doing enough to investigate alien life.
The author and researcher has filed the unusual lawsuit because he doesn't believe that NASA is doing everything possible to investigate potential signs of extraterrestrial life on Mars.
Joseph's main argument centers around the recent photographs taken by the Opportunity rover that show a strange rock appearing on the ground between shots. At the time, NASA scientists concluded that the rock had been kicked in to frame by the rover's wheels, but Joseph maintains that there is something more to it and believes NASA should have conducted a more thorough investigation.
"The refusal to take close up photos from various angles... to take microscopic images of the specimen... to release high resolution photos, is inexplicable, recklessly negligent, and bizarre," he wrote.
NASA has yet to comment on the lawsuit.
Source: New York Daily News | Comments (63)
Tags: NASA, Rhawn Joseph