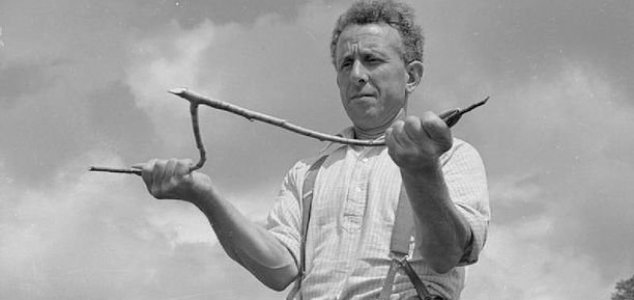 A dowser using a hazel twig to find water.

Image Credit: Imperial War Museum
Californian farmers are turning to the metaphysical to help locate water sources in the absence of rain.
The controversial practice of dowsing has long been considered by some to be an effective way to discover underground sources of water or minerals. Using nothing but a pair of copper rods or wooden sticks a dowser can theoretically pinpoint where water might be found by 'feeling' for its location.
Several farms and vineyards including Bronco Wine, one of the largest wine-makers in the United States, have been using dowsers to help them find hidden sources of water during the recent dry season.
"I've used witchers for probably the last 15 to 20 years," said Bronco Wine co-owner John Franzia. "Seems like the witchers do the better job than the guys with all the electrical equipment. I believe in them."
Not everyone is convinced that dowsing is an effective or reliable technique however. Many scientists, including those at the US Geological Survey, believe that there is little evidence to support the idea that dowsing actually works.
"The natural explanation of 'successful' water dowsing is that in many areas water would be hard to miss," the agency wrote in a report.
Source: Washington Post | Comments (92)
Similar stories based on this topic:
Tags: Water, Dowsing, Drought