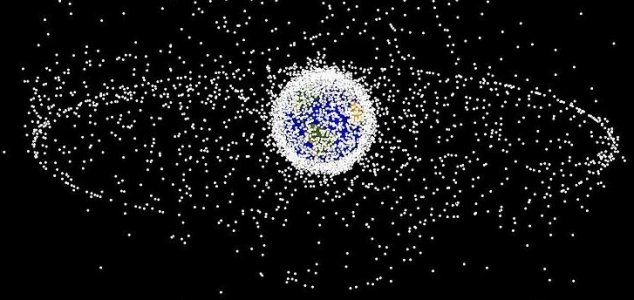 The Earth is surrounded by space junk.

Image Credit: NASA
A team of Australian physicists have come up with a new way to deal with the ever-growing field of junk.
Satellites and spacecraft are already running a daily gauntlet of spent rocket stages, screws, bolts and other objects that currently encircle our world. As time goes on the problem will reach the point at which it will be too risky to send anything else up in to space due to the risk of a collision.
To help combat this problem a team of scientists from Australia has developed a new system that uses powerful lasers to target and zap individual items of debris so that they fall back down and burn up harmlessly in the atmosphere.
The team hopes to have a working system running within the next ten years so that they can begin to tackle the estimated 300,000 pieces of space junk currently in orbit.
"It's important that it's possible on that scale because there's so much space junk up there," said Matthew Colless, director of Australian National University's Research School of Astronomy and Astrophysics. "We're perhaps only a couple of decades away from a catastrophic cascade of collisions... that takes out all the satellites in low orbit."
Source: The Guardian | Comments (19)
Similar stories based on this topic:
Tags: Space Debris