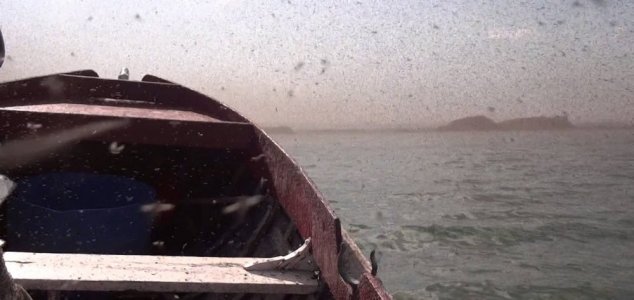 The insects numbered in the millions.

Image Credit: YouTube / Halldora Kristin Bjarnadottir
The pair got more than they bargained for when they took to the waters of Iceland's Lake Myvatn.
The couple had been taking advantage of the good weather with a relaxing boat trip when they spotted a monstrous cloud of insects approaching them from towards the shoreline.
As the bugs started to close in on them the feeling of humorous intrigue was soon replaced with revulsion and horror as they grabbed anything on-hand, including using a bucket as a hat, to keep the midges at bay as the boat accelerated through the swarm.
While not so much of an issue in the colder months, the midges can represent a considerable problem on the lake during the warmer weather leading most people to avoid the area altogether during the summertime.
Even its name, "Lake Myvatn", actually translates to "the lake of midges".
Source: Metro | Comments (12)
Tags: Iceland, MidgesFlies, Swarm