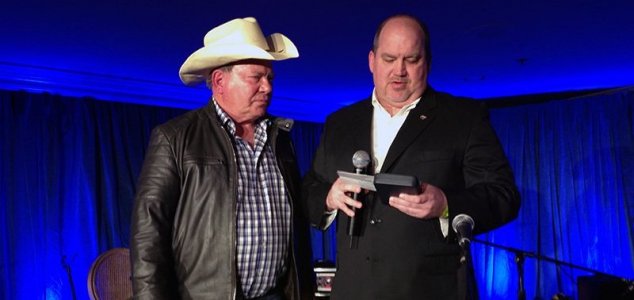 NASA's Bob Jacobs presents Shatner with the award.

Image Credit: NASA
Star Trek's William Shatner has been honored with the space agency's Distinguished Public Service medal.
Having spent almost 50 years boldly going where no man has gone before, the legendary actor has been officially recognized this week for "outstanding generosity and dedication to inspiring new generations of explorers around the world, and for unwavering support for NASA and its missions of discovery".
"William Shatner has been so generous with his time and energy in encouraging students to study science and math, and for inspiring generations of explorers, including many of the astronauts and engineers who are a part of NASA today," said NASA's David Weaver.
In addition to his role as Star Trek's most famous captain, the actor and director is an established author with over 50 books to his name and is also well known for his efforts to raise money for a variety of children's charities.
Source: NASA.gov | Comments (27)
Tags: NASA, William Shatner