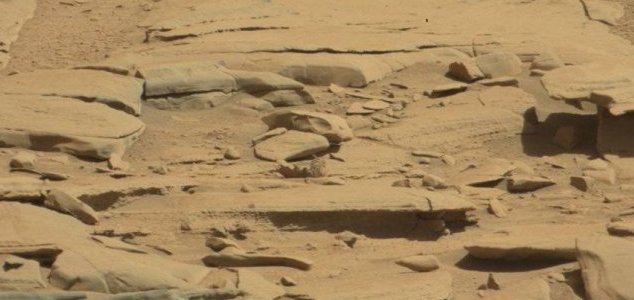 The rock resembles the shape of a dinosaur skull fossil.

Image Credit: NASA
The latest in a long line of impossible objects sighted on Mars is a rock in the shape of a T. rex skull.
Eagle-eyed observers claim to have found a lot of strange things on the Red Planet over the last few years including a human hand, a gerbil and even Bigfoot, but in this latest pareidolia exercise one person has spotted something that may trump them all - the skull of a Tyrannosaurus rex.
The recent rise in sightings of impossible items on the surface of Mars has come about thanks to the regular flow of new photographs from NASA's Curiosity rover, providing an endless array of alien landscape shots from which to seek familiar shapes. While none of these supposed artifacts are anything but random rocks, this hasn't stopped people from scouring through the photographs for something unusual and sharing their discoveries on social media sites.
This latest find, a rock with an admittedly skull-like appearance complete with eye socket and apparent nasal cavity, is just the latest example of this ongoing and perplexing social phenomenon.
Source: Huffington Post | Comments (48)
Tags: Mars, Curiosity