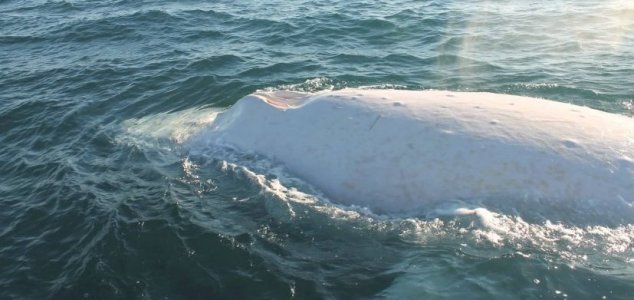 Migaloo swam very close to the boat.

Image Credit: YouTube / Chris Jones
An extremely rare encounter with an albino humpback whale called Migaloo has been caught on camera.
First sighted in 1991 this rare white whale might sound like the topic of a hoax but is in fact a genuine animal, one that has been spotted several times over the last few decades. Believed to have been about 3 to 5 years old at the time of its discovery, Migaloo is now likely to be approaching 30.
Only three other albino humpback whales have ever been identified and an encounter with one is considered to be a special treat for whale watchers.
In this recent footage, a group of people sailing off the coast of New South Wales in Australia on June 19th was given unexpected front row seats to the spectacle of Migaloo swimming past them through the waves.
It is thought that the whale is embarking on its annual migration of thousands of miles from Antarctica to the breeding grounds along the Great Barrier Reef.
Source: Huffington Post | Comments (16)
Tags: Migaloo, Whale, Albino