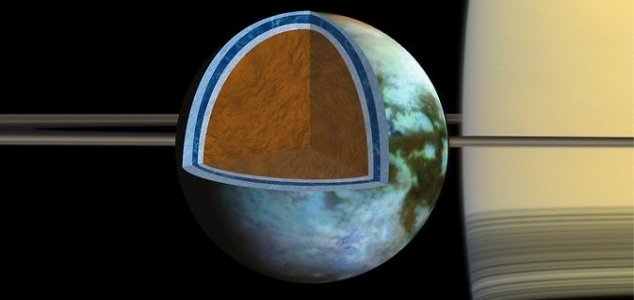 Artist's rendering of Titan's interior structure.

Image Credit: NASA/JPL
The ocean thought to lie within Saturn's largest moon may contain significant quantities of salt.
The claim is based on new data recorded by the Cassini orbiter as part of a study in to the gravity and topography of Titan that has allowed scientists to build up a detailed picture of its structure.
"Titan continues to prove itself as an endlessly fascinating world, and with our long-lived Cassini spacecraft, we're unlocking new mysteries as fast as we solve old ones," said project scientist Linda Spilker.
The new findings support the idea that Titan maintains an icy external shell with a liquid water ocean underneath. Unexpectedly however the data also suggests that this ocean is likely to possess a high salt content, potentially rivaling even that of the Dead Sea here on Earth.
"This is an extremely salty ocean by Earth standards," said study lead author Giuseppe Mitri. "Knowing this may change the way we view this ocean as a possible abode for present-day life, but conditions might have been very different there in the past."
Source: NASA.gov | Comments (13)
Tags: Saturn, Titan, Salt