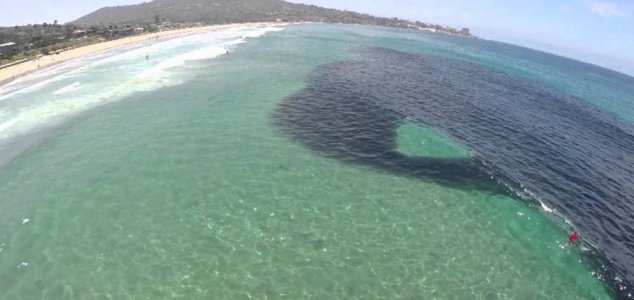 The sheer size of the school has baffled experts.

Image Credit: YouTube / Scripps Oceanography
The ocean turned a shade of black as up to 100 million fish swarmed the coastline off La Jolla.
Thought to be the largest school of anchovies seen within the last three decades, the enormous shoal measured 50ft wide and 325ft long.
Observers watched the dark undulating shadow of the fish, which looked like part of a giant oil slick, as they swam near the shoreline. A member of the Scripps Institution of Oceanography who had been visiting the beach during the spectacle was able to capture the whole thing on video.
Experts don't know what prompted such a large concentration of the animals but believe that it was unlikely that they were searching for food. The fact that the water temperature was unusually high for anchovies also added to the mystery.
In the footage, swimmers sharing the water with the fish can be seen diving down amongst them as they dart around in the warm coastal shallows of the Pacific.
Source: Science Recorder | Comments (21)
Tags: Anchovies, Fish, California