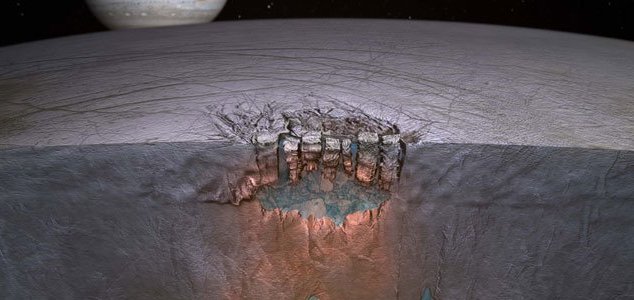 What lies beneath Europa's surface ?

Image Credit: Britney Schmidt/Dead Pixel VFX
The space agency is accepting proposals for science instruments for future use on Jupiter's icy moon.
As part of its efforts to search for evidence of extraterrestrial life within our own solar system, NASA is planning on sending a spacecraft to Jupiter's moon Europa, a cold and enigmatic world thought to contain a liquid water ocean beneath a thin ice crust.
This time however the space agency is inviting scientists and engineers from all over the world to submit proposals for instruments designed to help find signs of life there.
The winning entry will be funded, built and then sent to Europa when the mission launches at some point in the not-too-distant future.
"The possibility of life on Europa is a motivating force for scientists and engineers around the world," said NASA's John Grunsfeld. "This solicitation will select instruments which may provide a big leap in our search to answer the question: Are we alone in the universe ?"
Source: Fox News | Comments (24)
Tags: Europa, Jupiter