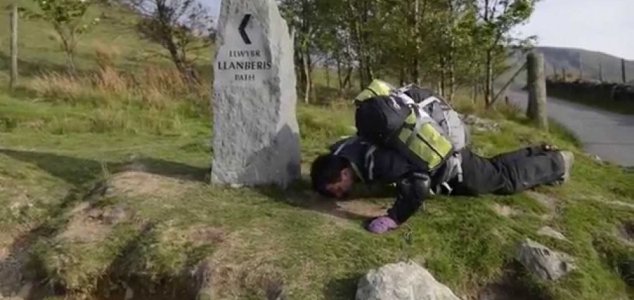 Kettell preparing for his attempt.

Image Credit: YouTube / willthemadfoolmakeit
Stuart Kettell is attempting to ascend Snowdon in Wales while pushing the vegetable using his face.
The bizarre stunt, which is being undertaken to help raise money for Macmillan Cancer Support, will see the 49-year-old spend at least four days lying on his belly as he attempts to nudge the sprout up the side of the mountain using nothing but his nose.
Kettell, who is from the West Midlands, set off yesterday at 7am on his grueling mission to ascend more than 3,500ft to the summit.
The attempt follows several other peculiar stunts that he has undertaken to raise money for charity including spending a week inside a box, walking along every street in Coventry on stilts and running inside a giant hamster wheel.
"The first day had been gruelling for Stuart," said Richard Crump who is filming Kettell's ascent. "He has no skin on his knees, his neck is hurting and his neck is really tired. But he is still going."
Source: BBC News | Comments (20)
Tags: Stuart Kettell, Sprout, Snowdon