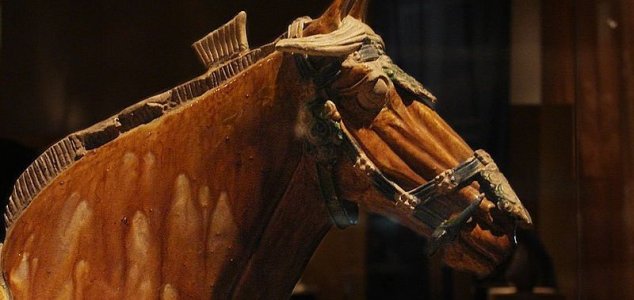 An ancient Chinese pottery horse.

Image Credit: CC BY-SA 2.5 Wiki / Editor at Large
Archaeologists have uncovered more than 10,000 artefact's in the mausoleum of King Liu Fei.
Despite being looted several times in the past, the 2100-year-old mausoleum, which consists of several tombs and chambers, still contained a significant quantity of its original items when it was excavated between 2009 and 2011.
Among the finds were valuable treasures of gold, silver and jade as well as a number of life-size and miniature chariots. It appeared that Liu Fei, who had been revered by his people as a "luxurious" ruler, had been provided with a great many gifts at the time of his death.
"Although it was looted, archaeologists still discovered pottery vessels, lacquer wares, bronzes, gold and silver objects, and jades, about 200 sets altogether," wrote the archaeology team.
"The 'jade coffin' from M2 is the most significant discovery. Although the central chamber was looted, the structure of the jade coffin is still intact, which is the only undamaged jade coffin discovered in the history of Chinese archaeology."
Source: CBS News | Comments (12)
Tags: China, Liu Fei