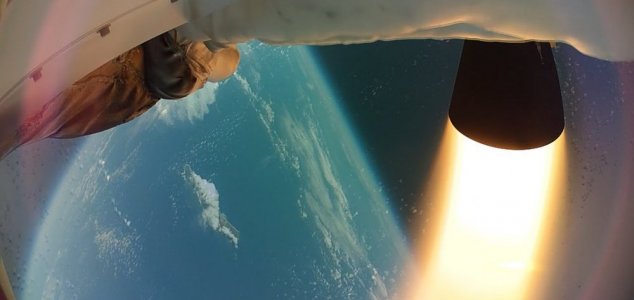 What's it like to ride shotgun on a flying saucer ?

Image Credit: NASA/JPL
The space agency has released new video footage from its LDSD test flight back at the end of June.
The Low-Density Supersonic Decelerator is a new saucer-shaped vehicle designed to enable the landing of larger and heavier payloads on the surface of other worlds such as Mars.
NASA launched the system back on June 28th from the Pacific Missile Range Facility in Hawaii for a test flight which saw the vehicle being lifted to a height of 120,000ft by a large balloon.
Consisting of a large doughnut shaped air brake called the Supersonic Inflatable Aerodynamic Decelerator and a specially designed parachute called the Supersonic Disksail Parachute, the mission proved to be a success and now new footage has been released showing what it would have been like to have been on board the vehicle during the flight.
"As far as I am concerned, whenever you get to ride shotgun on a rocket-powered flying saucer, it is a good day," said mission principal investigator Ian Clark.
"We hope the video will show everyone how beautiful and awesome the test was, and to just to give folks an insight into what experimental flight test is all about."
Source: JPL | Comments (9)
Tags: LDSD, NASA, Mars