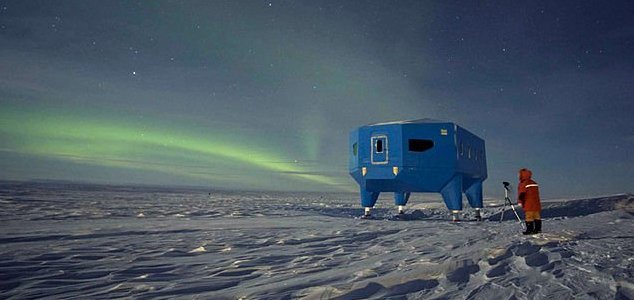 A team member stands next to one of the station's modules.

Image Credit: CC BY-SA 2.0 Richard Burt
The 13 staff members at Halley Research Station in Antarctica have been attempting to fix their heating.
A power failure during the winter can be a big problem at the best of times, but when it happens at a base on an ice shelf in Antarctica while the temperatures outside are plummeting towards -55.4C a lack of heating can prove to be extremely dangerous.
This is the situation that's been facing the British Antarctic Survey team at Halley Research Station this month after an unexplained power failure left them without any heating at all.
Fortunately the team were able to restore limited power and heat however the cause of the problem has yet to be determined. The timing of the failure has been made all the more problematic by the fact that the region happened to be experiencing record low temperatures at the time.
"Contingency plans for alternative accommodation on site are in place and ancillary buildings are being made ready in case of a further power-down," the British Antarctic Survey said in a statement. "Our urgent priority is to ensure the continued safety and wellbeing of the wintering team."
Source: Sky News | Comments (6)
Similar stories based on this topic:
Tags: Antarctica, Expedition