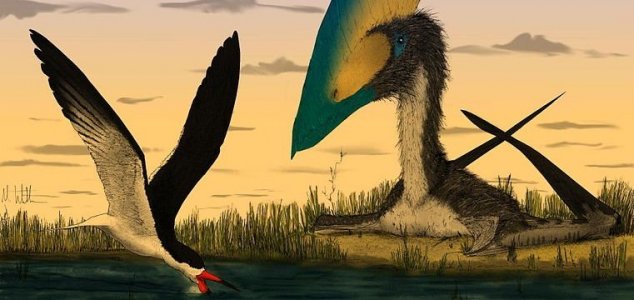 Huge winged reptiles once dominated the prehistoric skies.

Image Credit: CC BY-SA 3.0 Mark Witton
Scientists have found the fossil remains of several dozen members of a previously unknown species.
The colony, which was situated in a desert lake in southern Brazil, dates back 100 million years and is thought to have been populated by as many as several hundred juveniles and adults.
A previously undiscovered species, Caiuajara dobruskii was a flying reptile with a large bony crest on its head and a wingspan measuring up to 8ft. The discovery is particularly rare and valuable because it is the first time that such an extensive "bone bed" has been found for a pterosaur species.
"The presence of three main levels of accumulation in a section of less than one metre suggests that this region was home to pterosaur populations for an extended period of time," said study leader Dr Alexander Kellner of Rio de Janeiro's Federal University.
"The causes of death remain unknown, although similarities with dinosaur drought-related mortality are striking. However, it is also possible that desert storms could have been responsible for the occasional demise of these pterosaurs."
Source: Telegraph | Comments (6)
Tags: Dinosaur, Pterosaur