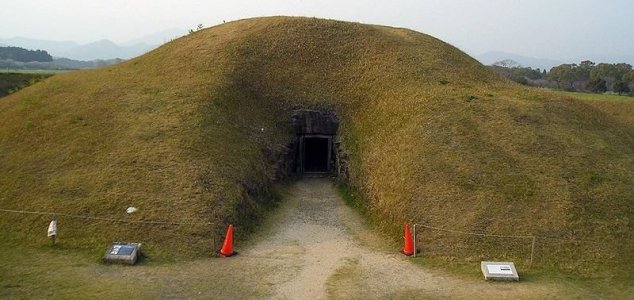 An ancient Japanese tumulus.

Image Credit: CC BY-SA 3.0 STA3816
The Miyakozuka tomb in the village of Asuka is now believed to have been built in a pyramid shape.
The large rectangular tomb, which was thought to have held the remains of Yamato Dynasty leader Soga no Iname when he died in 570 AD, is now believed to have featured a rare pyramid shape according to a new study conducted by the Kansai University's Archaeological Research Institute.
Iname was thought to have had strong ties with the people who originally migrated to Japan from China and North Korea, while the tomb itself may have been influenced by existing tumuli ( large mounds of earth and stones ) built on the border between those two countries.
The inference of a pyramid shape at the tomb was determined following the discovery of several stairlike structures at different points around the site, indicating as many as eight stone layers.
The mound would have been between 4.5m and 7m high and up to 40m in length.
Source: Japan Times | Comments (9)
Tags: Miyakozuka, Pyramid