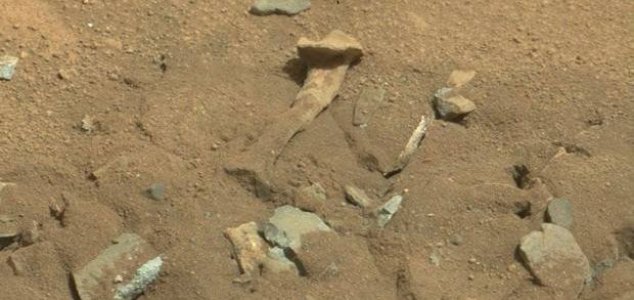 Despite claims to the contrary the 'bone' really is just a rock.

Image Credit: NASA
Eagle-eyed Internet users have spotted an alleged 'thigh bone' in images taken by NASA's Curiosity rover.
The latest in a long line of bizarre objects claimed to have been sighted in photographs of Mars, the apparent 'bone' at least vaguely resembles what many are claiming it to be.
Snapped in amongst a pile of randomly shaped rocks by the rover's MastCam on August 14th, the object is almost certainly a case of pareidolia, the brain's tendency to see meaningful shapes in otherwise abstract patterns.
Unfortunately this hasn't stopped a deluge of speculation and bizarre claims circulating the Internet suggesting that the object is everything from a "fossilized, reptilian spine" to evidence of dinosaurs.
Source: Independent | Comments (94)
Tags: NASA, Mars