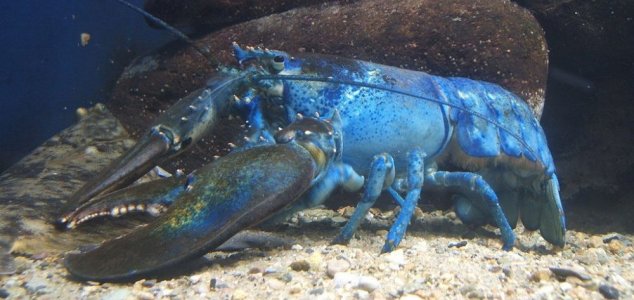 A blue lobster specimen at an aquarium.

Image Credit: CC BY-SA 3.0 Stevenj
Teenager Meghan LaPlante discovered the crustacean while checking lobster traps at the weekend.
The bright blue lobster, which scientists say is a 1 in 2 million specimen, demonstrates a vivid shade of blue due to a genetic defect that leads to the excessive production of a certain protein.
14-year-old Meghan, who helps her parents out during the summer at Miss Meghan's Lobster Catch in Old Orchard Beach, is no stranger to finding unusual catches in her traps but admits that she has never seen anything like this one before.
The blue lobster has since gained the attention of marine experts across the United States and will be donated to the Maine State Aquarium for further study.
Despite its rarity however there have been some even more unusual shades of lobster hauled up from the depths of the ocean over the years. The odds of finding a bright red lobster for instance are 1 in 10 million whereas a yellow one is even rarer at 1 in 30 million.
Rarest of all however is an albino lobster with no coloring at all with odds of 1 in 100 million.
Source: Boston Globe | Comments (8)
Tags: Lobster, Maine