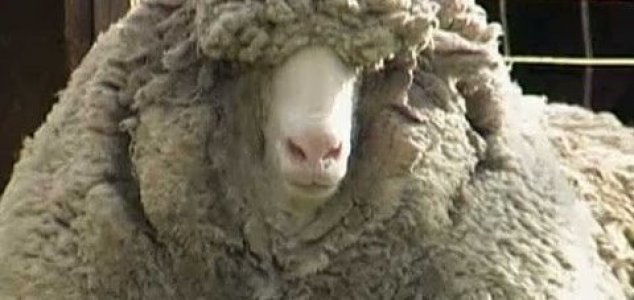 Shaun is somewhat overdue for a hair cut.

Image Credit: YouTube / The Telegraph
A sheep that hasn't been shorn for six years has so much wool that it can hardly see where it's going.
Discovered by two farmers, the comically overburdened sheep - which has been nicknamed Shaun after the popular children's TV character - is believed to have escaped from a farm in the east of Tasmania before spending six years wandering the wilds.
"He couldn't see very well because of the wool over his face, so I snuck up behind him and grabbed him," said farmer Peter Hazell. "Then Netty and I went and got the ute and put him in the back and brought him into the yard."
There is so much wool on the sheep in fact that its fleece weighs more than 20kg. The fact that it managed to survive for so long on its own with such a heavy coat is quite remarkable.
"It is the heaviest sheep I've ever lifted," said Netty Hazell. "I just couldn't believe it, I just could not believe a sheep could have so much wool."
Source: ABC.net.au | Comments (22)
Tags: Sheep, Wool