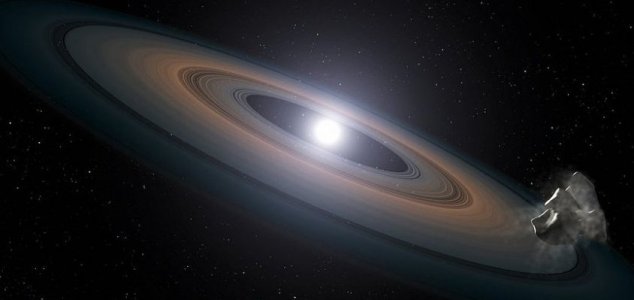 A debris cloud circling a white dwarf star.

Image Credit: CC BY-SA 3.0 NASA/ESA
Astronomers have determined that white dwarf stars can suddenly spring back to life and explode.
Traditionally a white dwarf is what's left after a dying star sheds its outer layers, shrinks down and then slowly cools off over time.
Now however scientists have been able to confirm what has long been suspected - that a white dwarf can be brought back to life if either it collides with another white dwarf or if a disruptive interaction takes place between it and a companion star.
White dwarfs remain stable so long as their mass is below a specific threshold, but if the star steals matter from another star its mass may grow too great to maintain stability, resulting in the compression of the carbon within the star's core and initiating a sudden release of energy, tearing the star apart.
Astronomers learned of this mechanism by examining the remnants of a mysterious category of stellar explosion known as a Type Ia supernova.
"Upsetting the conventional wisdom is always a joy in science," said astrophysicist Robert P Kirshner. "There is also a deep pleasure in showing decisive evidence on an important physical idea that has been used without proof for decades. It is a wonderful result."
Source: BBC News | Comments (8)
Tags: White Dwarf, Star, Supernova