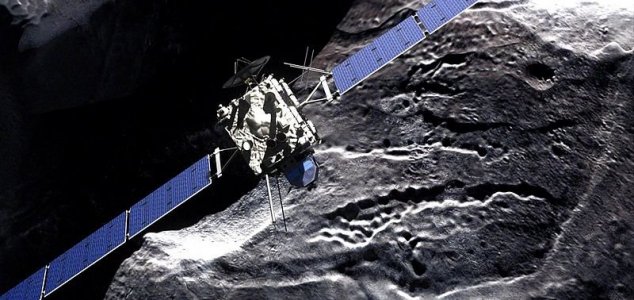 Rosetta is preparing to deploy the Philae lander.

Image Credit: CC BY-3.0 DLR
ESA officials have reported that everything is on schedule for the probe's attempted landing tomorrow.
The European Space Agency's Rosetta probe made history back in August when it became the first ever spacecraft to orbit a comet.
Now its companion, Philae, is preparing for its descent on to the comet's surface, a maneuver accompanied by a great deal of risk. For it to work Rosetta must head on a specific path and release the probe at exactly the right time for it to hit its target.
If the calculations are not absolutely spot on then Philae will crash.
"The point of separation is fixed in time, in space, velocity and attitude; and we have to reach exactly that point," said ESA flight director Andrea Accomazzo. "So, wherever Rosetta is, we have to design a maneuver to reach that point."
If the landing is successful Philae will deploy foot screws and harpoons to anchor it to the ground.
"It will take a few minutes to really analyse and fully understand that, yes, we are landed; yes, the harpoons are fired and safely anchored," said Stephan Ulamec of the German space agency.
If the probe survives then it will represent a significant success story in the history of space exploration and we should soon be looking at the first ever images from the surface of a comet.
Source: BBC News | Comments (209)
Similar stories based on this topic:
Tags: Rosetta, Comet, Philae