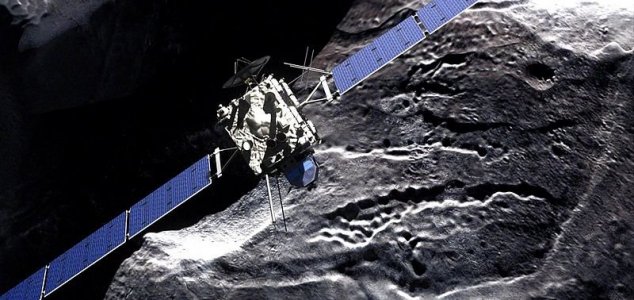 The Rosetta spacecraft has identified patches of water ice.

Image Credit: CC BY-3.0 DLR
The Rosetta spacecraft has found what appears to be patches of ice on the surface of comet 67P.
The probe, which became the first spacecraft in history to go in to orbit around a comet when it arrived in August of last year, has already returned a wealth of information as part of its ongoing efforts to conduct the most detailed study of a comet ever undertaken.
Now scientists have revealed that the probe has recorded images of what appear to be patches of exposed water ice on the comet's surface. The patches are located in shaded areas where they are protected from the sun's heat and appear ten times brighter than the surrounding rock.
Further confirmation should be obtainable once the comet reaches its closest approach to the sun.
"As the comet continues to approach perihelion, the increase in solar illumination onto the bright patches that were once in shadow should cause changes in their appearance, and we may expect to see new and even larger regions of exposed ice," said project scientist Matt Taylor.
Source: Tech Times | Comments (4)
Tags: Rosetta, Comet