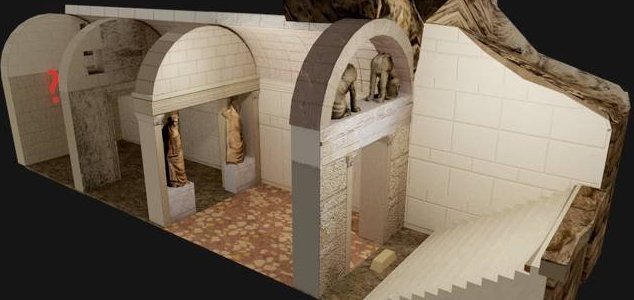 An artist's impression of the chambers unearthed so far.

Image Credit: CC BY-SA 4.0 greektoys.org
Archaeologists excavating the ancient tomb near Amphipolis have discovered the remains of a skeleton.
The tomb, which is believed to date back to the reign of Alexander the Great in the 4th century, has been making headlines in recent weeks as archaeologists have slowly revealed their findings.
So far the team has uncovered three chambers within the tomb along with several statues, mosaics and artifacts. Now they have also discovered a series of bones strewn around the innermost chamber which were thought to have once been contained within a wooden coffin that has long since rotted away.
"It's a very important find because it will help us learn the sex of the person buried there, and possibly their approximate age," the Greek culture ministry said in a statement.
There has been much speculation over the identity of the person buried in the tomb however it is likely that they were a member of the aristocracy or even a close aide to Alexander himself.
"It is an extremely expensive construction, whose cost, clearly, is unlikely to have been borne by a private citizen," the ministry added.
Source: CTV News | Comments (123)
Tags: Greece, Tomb, Alexander