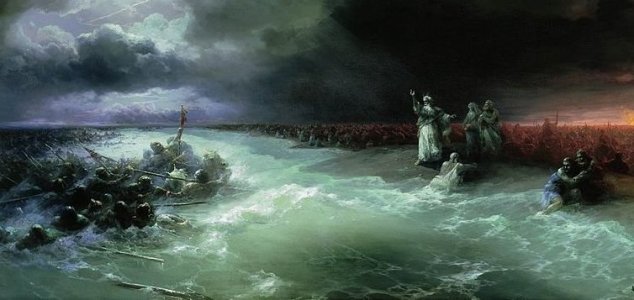 Moses and the parting of the Red Sea.

Image Credit: Ivan Aivazovsky
A new study has indicated that there is a scientific basis for the parting of a large body of water.
The miraculous parting of the Red Sea that enabled the Israelites to escape from Egypt is one of the best known biblical stories, a tale that has even made its way on to the silver screen both in the Charlton Heston classic
The Ten Commandments
and more recently in Ridley Scott's
Exodus: Gods and Kings
.
But did these events actually occur - did Moses really part the waters of the Red Sea ? As it turns out there is a scientific basis to support the idea that something like this could happen.
In a recent study, software engineer Carl Drews created a computer model to demonstrate that a phenomenon known as "wind setdown" might be the key to explaining what happened.
Under certain conditions it is possible for strong winds to produce a significant enough storm surge in one area of a lake for another part to be completely emptied of water. This peculiar occurance has actually happened quite recently both in Lake Erie and in the Nile Delta.
Drews maintains that, based on archaeological evidence, the events described in the story actually took place at the Lake of Tanis in the Eastern Nile Delta, not the Red Sea as is commonly told.
Using the model he was able to show that the conditions at the time were favorable and that the lake could have parted in this way at the time Moses and the Israelites were escaping Egypt.
Source: Smithsonian Magazine | Comments (256)
Tags: Moses, Red Sea