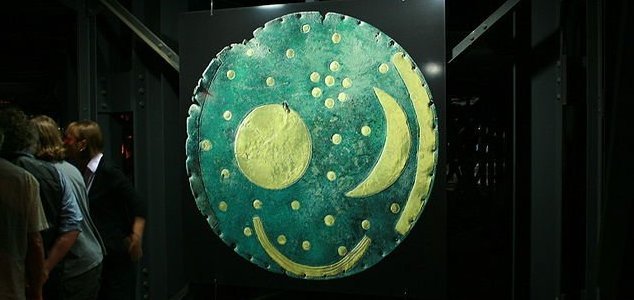 The Nebra sky disc.

Image Credit: CC BY-SA 3.0 Frank Vincentz
The 3,600-year-old Nebra sky disc may have enabled ancient farmers to keep track of the seasons.
Discovered in 1999, the disc, which depicts representations of the moon and stars, has been of great interest to astronomers and could be the earliest known sky map ever found.
Thought to date back to the Bronze Age, the disc would have been used to predict the best times for sowing and harvesting.
The care and attention taken to produce it as well as its remarkable sophistication has surprised many archaeologists.
"We knew that people back then must have had a certain idea of the seasons and the Moon, as we all have," said researcher Dr. Alfred Reichenberger.
"There are depictions of the cosmos that are older, for example in the chamber tombs of the old pyramids in Egypt. But they are schematic… as of today, there has never been something as concrete as the Nebra sky disc."
Source: Mail Online | Comments (20)
Tags: Nebra Sky Disc