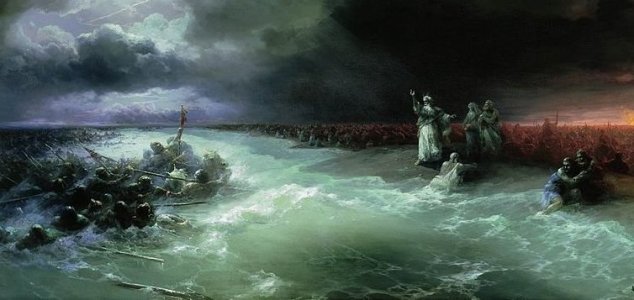 A historical depiction of Moses leading the Israelites away from Egypt.

Image Credit: Ivan Aivazovsky
Egypt's censorship board has taken the decision to ban the film due to 'historical inaccuracies'.
Directed by Ridley Scott and starring Christian Bale, the biblical epic depicts the story of Moses as he led the Hebrews out of Egypt and features scenes such as the twelve plagues, the parting of the Red Sea and the transcribing of the Ten Commandments.
Despite its impressive visuals and grand set pieces however the movie did not perform particularly well at the box office and nor did it receive very favorable reviews from critics.
To make things worse a film censorship board in Egypt has now decided to ban the film on the basis that its interpretation of the biblical story contains too many historical inaccuracies.
These include the suggestion that the Jews constructed the pyramids and the idea that an earthquake, as oppose to an act of God, was responsible for the parting of the Red Sea.
The movie is also believed to be banned in Morocco for similar reasons.
Source: BBC News | Comments (86)
Tags: Exodus, Egypt, Movie