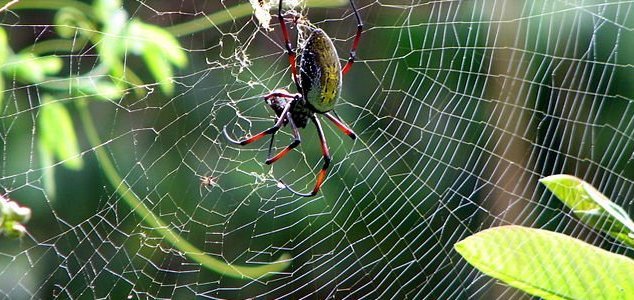 A golden orb-web spider in its web.

Image Credit: CC BY-SA 3.0 Bernard Gagnon
Scientists believe that golden orb-web spiders may be able to count how many insects they've caught.
The golden orb-web is a patient species that relies on sitting and waiting for prey to stumble in to its web. Over time this technique can build up a sizable stockpile of food but there is always the risk that other spiders will attempt to take advantage of this readily available food source by taking some of it for themselves.
To protect itself from thievery however the orb-web appears to have developed the unique ability to count how many items are missing from its web so that it can go out and look for them.
To study this behavior further researchers at the University of Wisconsin-Milwaukee conducted an experiment to determine if the spider really was counting the number of items in its web or if it was simply detecting differences in the overall weight of the web's contents.
The results of their research suggested that the spiders seemed to be able to do both, making golden orb-webs one of only a few known species to possess a sense of numerosity.
"This is interesting because it suggests that brains of very different sizes and organizations can give animals this ability," said researcher Rafael Rodríguez.
Source: Wired | Comments (15)
Tags: Spider