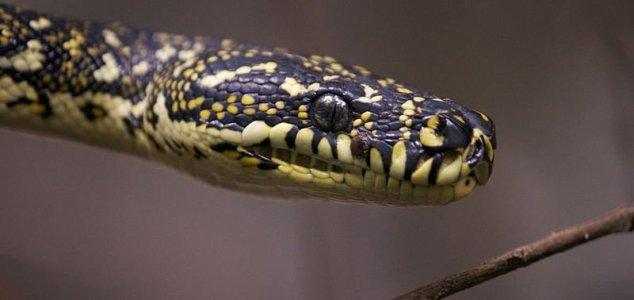 The snake had curled up inside the cereal box because it felt safe.

Image Credit: CC BY 3.0 Graysilver
Australian Jarred Smith got the shock of his life when he ventured in to his kitchen to make some lunch.
The unsuspecting 22-year-old discovered that an enormous snake, which later turned out to be a two-meter long diamond python, had taken up residence inside a cardboard cereal box.
Despite the small size of the box the snake had somehow managed to curl up inside and was almost completely out of view.
Smith got such a shock when he saw the reptile that he dropped his meal on the floor and ran in terror for the kitchen door.
Having alerted his father, who happened to be home at the time, he promptly called up the local wildlife rescue service and asked them to come and remove the snake from the house.
"The python was over 2m long and I couldn't believe it was jammed into this small cereal box," said animal expert Chris McGreal. "When I got there I actually had to tear the box to get it out, that's how tightly squeezed in it was. It's likely it was hiding in there to feel secure."
Fortunately diamond pythons are non-venomous but they can still leave a nasty bite.
Source: Independent | Comments (33)
Similar stories based on this topic:
Tags: Python, Cornflakes