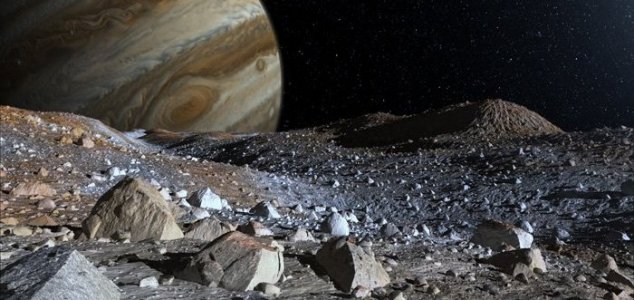 Could there be microbial life forms living beneath Europa's surface ?

Image Credit: NASA/JPL
Chief scientist Ellen Stofan stated that we are likely to find evidence of alien life within 20 years.
Her comments came during a public panel in Washington D.C on Thursday in which NASA scientists had been discussing the likelihood that mankind will discover conclusive evidence of microbial alien life in the near future.
"I believe we are going to have strong indications of life beyond Earth in the next decade and definitive evidence in the next 10 to 20 years," Stofan said during the event.
The optimistic prediction is based on the recent discovery that oceans of liquid water might exist, not only on Jupiter's moon Europa, but also on Ganymede and Saturn's moon Enceladus.
"We now recognize that habitable zones are not just around stars, they can be around giant planets too," said Jim Green, NASA's director of planetary science.
"We are finding out the solar system is really a soggy place."
The confirmed discovery of extraterrestrial life would undoubtedly constitute one of the greatest, if not
the
greatest, scientific finds in human history.
"It's definitely not an if, it's a when," the panel concluded.
Source: Popular Science | Comments (65)
Tags: Extraterrestrial, Life