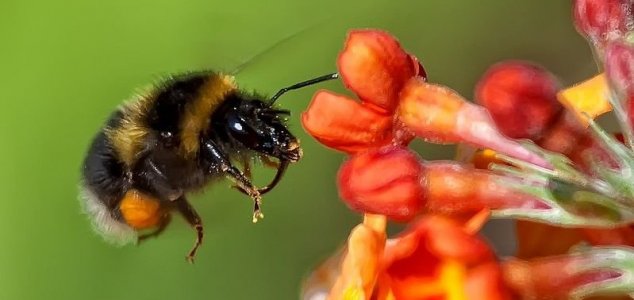 Pesticides pose a significant risk to bees and other pollinators.

Image Credit: CC BY-SA 2.0 Mark Winterbourne
Rather than avoiding harmful pesticides on plants, bees might actually be deliberately targeting them.
For many years now bees have been in steady decline across both Europe and North America, a crisis that if left unchecked could eventually lead to food shortages because the bees play such an important role in pollinating food crops.
Intensive research in to the phenomenon has revealed that this decline is likely to be the result of multiple factors including pesticides, disease and habitat loss. Several pesticides have already been banned in the EU in an effort to curb the problem.
Now however researchers at Newcastle University have made a new discovery that could help to shed more light on the reasons why pesticides are proving so deadly to bee populations.
What they found was that bees actually get a "buzz" out of the chemicals contained within certain pesticides and go out of their way to seek out plants that have been sprayed with them.
Neonicotinoids are particularly bad for this as they contain nicotine-like chemicals.
"We now have evidence that bees prefer to eat pesticide-contaminated food," said Prof Geraldine Wright. "Neonicotinoids target the same mechanisms in the bee brain that are affected by nicotine in the human brain."
"As soon as it gets into their blood they're getting a little buzz, as it were, and they're responding to that... We don't have any evidence that it's addictive, but it could be."
Source: BBC News | Comments (15)
Similar stories based on this topic:
Tags: Bees, Collapse