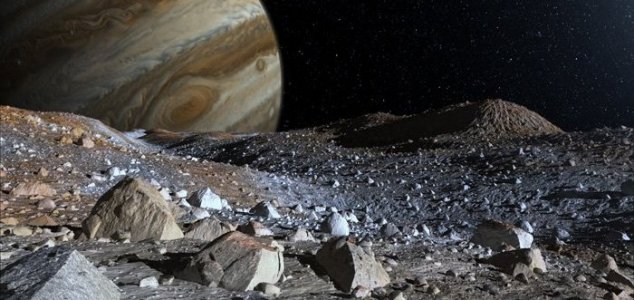 The surface of Europa appears to be covered in salt.

Image Credit: NASA/JPL
The dark substance that litters the surface of Europa is now believed to be sodium chloride.
Hot on the heels of the news that Saturn's moon Enceladus could contain a saltwater subsurface ocean comes the revelation that Jupiter's moon Europa might also be home to the same thing.
The key to the discovery lies in the mysterious dark substance that can be seen covering much of Europa's surface. Scientists had long struggled to identify what this substance could be, but now by simulating the extreme conditions on Europa using a special testing device they have been able to determine that it is actually sea salt.
The device, which was nicknamed "Europa in a can", was used to subject a salt sample to the same pressures, temperatures and radiation levels found on Europa's surface.
It didn't take long for it to turn the same dark color as the substance observed in the photographs.
"This work tells us the chemical signature of radiation-baked sodium chloride is a compelling match to spacecraft data for Europa's mystery material," said planetary scientist Kevin Hand.
The discovery of sea salt on Europa, much like the recent discovery on Enceladus, suggests that Jupiter's icy moon is still one of the best places in the solar system to look for alien life.
Source: Wired.co.uk | Comments (6)
Tags: Europa, Jupiter