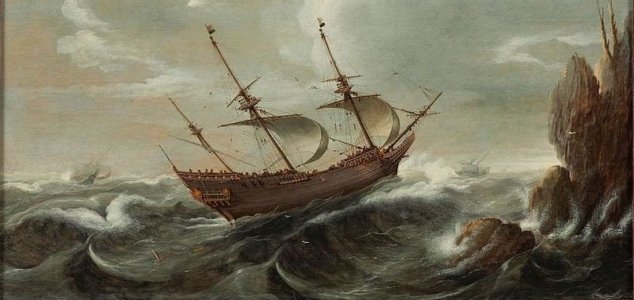 The ship is thought to have gone down in stormy seas.

Image Credit: Cornelis Verbeeck
Archaeologists have uncovered the intact wreck of a Spanish merchant ship that sank back in 1681.
The cargo vessel was discovered by a team who had been attempting to track down the remains of ships belonging to notorious privateer Captain Henry Morgan.
What they found instead was a Spanish merchant ship called
Encarnación
which sunk in the shallows at the mouth of the Chagres River during stormy weather over 300 years ago while carrying valuables from the New World back to Europe.
Despite being easy to access in only 40ft of water the wreck had managed to remain almost completely untouched by looters and much of its original cargo could still be found onboard.
An initial examination revealed that the ship's hull had been coated in a material called granel which was used by shipbuilders as a type of permanent ballast to help keep it steady in the water.
The researchers are hoping that the vessel will help them to better understand 17th century shipbuilding techniques as well as the trading and maritime practices of the era.
"These ships were the backbone of the Spanish colonies," said archaeologist Fritz Hanselmann.
Source: National Geographic | Comments (0)
Similar stories based on this topic:
Tags: Shipwreck, Spanish, Panama