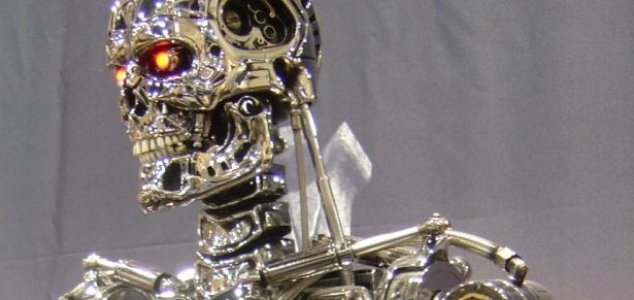 Schwarzenegger's T-800 model from the Terminator movie franchise.

Image Credit: CC BY 2.0 Doug Kline
Stephen Hawking believes that intelligent robots could be on course to destroy human civilization.
Speaking at the Zeitgeist 2015 conference in London this week, the celebrated physicist maintained that our species is in danger of being superseded by machines more intelligent than ourselves.
With more and more technology companies working on artificial intelligence for use in self-driving cars, virtual assistants and even weapons, Hawking believes we are moving ever closer to a world in which the human brain will simply be outclassed by the self perpetuating genius of intelligent machines.
"Computers will overtake humans with AI at some point within the next 100 years," he said. "When that happens, we need to make sure the computers have goals aligned with ours."
The concept of a future overrun by an artificial intelligence is nothing new having been explored in multiple different book and movie franchises including
The Matrix
and
The Terminator
.
Back at the beginning of the year Hawking got together with space entrepreneur Elon Musk to sign an open letter detailing the dangers of intelligent machines and calling for better controls and communication between companies to stop smart computers from getting out of control.
Whether it will be enough to prevent an AI-fueled apocalypse however remains to be seen.
Source: Tech Times | Comments (25)
Similar stories based on this topic:
Tags: Stephen Hawking, Artificial Intelligence