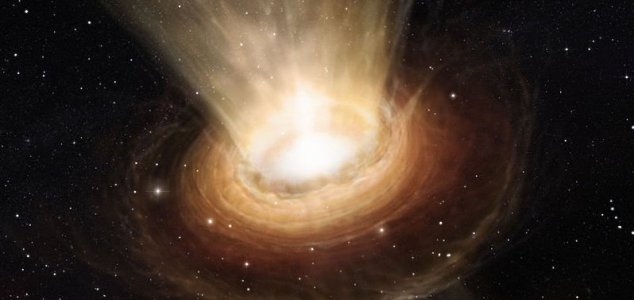 Supermassive black holes are quite commonplace.

Image Credit: CC BY 4.0 ESO/M. Kornmesser
Astronomers have discovered a supermassive black hole that appears to have grown to a ridiculous size.
Scientists had long believed that the growth of a supermassive black hole is closely linked to the growth of its parent galaxy meaning that one should generally remain proportional to the other.
This week however the discovery of a black hole containing ten percent of its host galaxy's entire mass has turned this idea upside-down and left scientists scratching their heads.
"This is really unexpected and was found in a really small survey, so it can't be that rare, unless we're just extraordinarily fortunate," said study co-author Professor Megan Urry.
"It's only one result and we shouldn't extrapolate, but if it were true then it would say that black holes grow substantially before the galaxies around them do."
The supermassive black hole in question, which measures a whopping 6.9 billion times the mass of the sun, is located in the distant galaxy CID-947 which formed two billion years after the Big Bang.
Most supermassive black holes are only 0.2 to 0.5 percent of the mass of their host galaxies.
Source: ABC.net.au | Comments (13)
Similar stories based on this topic:
Tags: Supermassive Black Hole