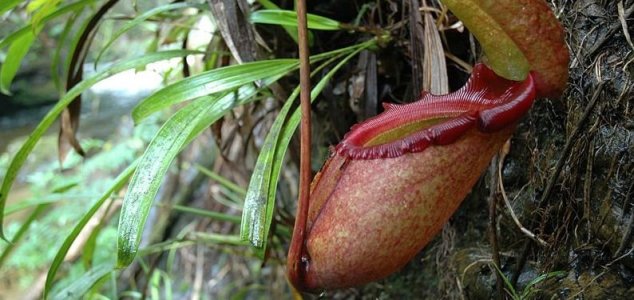 Pitcher plants typically feed on insects.

Image Credit: CC BY-SA 3.0 JeremiahsCPs
A unique type of pitcher plant has developed a novel way to attract bats using an ultrasound reflector.
Pitcher plants traditionally gain nutrition by trapping and digesting insects, but in Borneo one particularly large variety of pitcher plant has managed to adapt itself to take advantage of an alternative source of nutrition thanks to its rather unusual relationship with bats.
Known as
Nepenthes hemsleyana
, the species is still capable of catching insects but does not need to consume as many because it supplements its nutritional intake with bat droppings.
To attract bats the plant has developed a unique reflector mechanism that mirrors their ultrasonic communications thus making it a lot easier for the animals to find it.
The bats also benefit from the deal as the plant provides a cool place for them to roost.
"With these structures, the plants are able to acoustically stand out from their environments so that bats can easily find them," said study co-author Michael Schöner.
"Moreover, the bats are clearly able to distinguish their plant partner from other plants that are similar in shape, but lack the conspicuous reflector."
The discovery helps to explain why some pitcher plants can survive on fewer insects than others.
Source: Discovery News | Comments (6)
Tags: Pitcher Plant, Bats