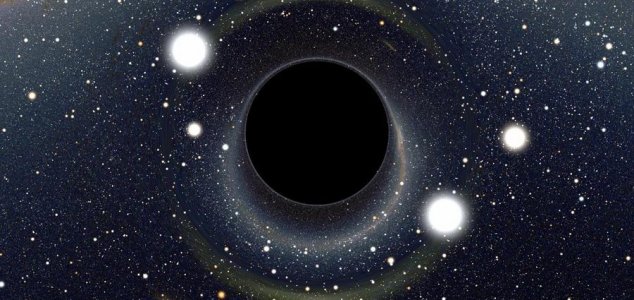 The team pioneered a new method for detecting triple black holes.

Image Credit: NASA / Alain Riazuelo
Three supermassive black holes over a billion light years away are on an inescapable collision course.
Situated in a system of three merging galaxies known catchily as SDSS J084905.51+111447.2, these cosmic behemoths were discovered during efforts to detect pairs of colliding black holes.
"We were only looking for pairs of black holes at the time, and yet, through our selection technique, we stumbled upon this amazing system," said lead author Ryan Pfeifle of George Mason University in Virginia. "This is the strongest evidence yet found for such a triple system of actively feeding supermassive black holes."
The find involved observations from multiple instruments including the Sloan Digital Sky Survey (SDSS) telescope in New Mexico and NASA's Wide-field Infrared Survey Explorer (WISE).
NASA's Chandra X-ray Observatory and NuSTAR spacecraft also played a role.
"Through the use of these major observatories, we have identified a new way of identifying triple supermassive black holes," said Pfeifle.
"Each telescope gives us a different clue about what's going on in these systems. We hope to extend our work to find more triples using the same technique."
It is believed that the black holes are somewhere between 10,000 and 30,000 light years apart.
Source: Live Science | Comments (2)
Similar stories based on this topic:
Tags: Black Hole