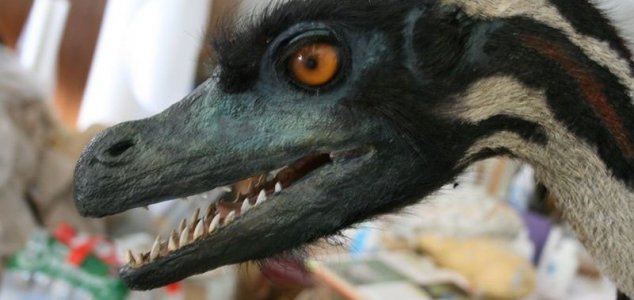 Many dinosaurs looked quite a lot like birds.

Image Credit: CC BY-SA 4.0 Salvatore Rabito Alcon
Scientists have discovered an ancestor of the velociraptor with distinctly bird-like traits.
Found preserved in limestone at the site of a volcanic eruption in China, the 6ft reptile dates back 125 million years and possesses features that indicate that it was on the cusp of becoming a bird.
Its discovery adds credence to the idea that many species of dinosaur, including velociraptors, were quite unlike the smooth-skinned hunters of the Jurassic Park movies but would have instead looked and behaved like large ground-dwelling birds with distinctive feather plumages.
"It will blow some people's minds to realize that those dinosaurs in the movies would have been even weirder, and I think even scarier - like big fluffy birds from hell," said Dr Steve Brusatte.
Because the new species was too heavy to be able to fly researchers now believe that its wings may have actually evolved as a display structure or as a way to help protect the eggs in its nest.
It's also possible that the wings helped the creatures glide from tree to tree in forest environments.
Whatever the case the new fossil has been hailed as particularly significant with Dr Brusatte describing it as "the single most beautiful fossil I have had the privilege to work on."
"This is the most exciting time maybe in the history of palaeontology," he said.
Source: BBC News | Comments (17)
Tags: Dinosaur